erp2 Features
Features
Main Features of erp2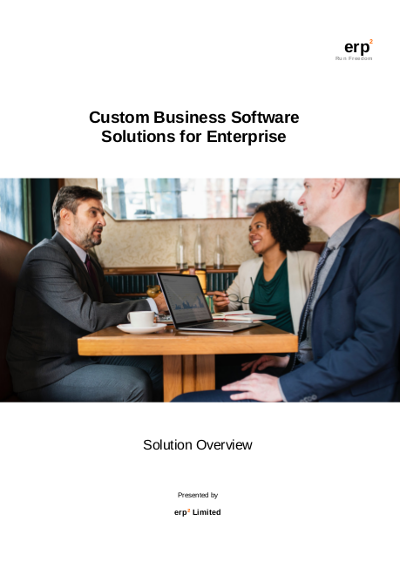 erp2 is a innovative step in the authorship of ERP systems by offering your organisation:
No License Fees – You own the software
No Vendor Lock-In – Use any vendor to update your software, it can never become obsolete
No Complicated Installation – You can avail of our erp2 Servers or run your own local server
No Learning Curve – We can replicate legacy system functionality
This freedom - our unique selling point - enbles your company to benefit from:
100% Private Cloud – Connect with any device using a web browser
100% Free Security Updates – If you host with us we will apply free security updates
100% Freedom – AGPL Open Source License means you can use your software as you wish
100% Custom – The software to the exact specification you need
erp2 Brochure
Please let us know if you'd like a copy of our brochure to share with decision makers in your organisation by emailing: info@erp.ie.
erp2 Mobile
Your Software, Anywhere - When you travel, you need to be able to do everything you can do on the desktop, via smartphone. That's why the erp² system runs 100% on mobile devices. There is no app to download, not old versions to update. The mobile version is exactly the same as the Desktop version, just refactored – in real time – to fit on a mobile screen.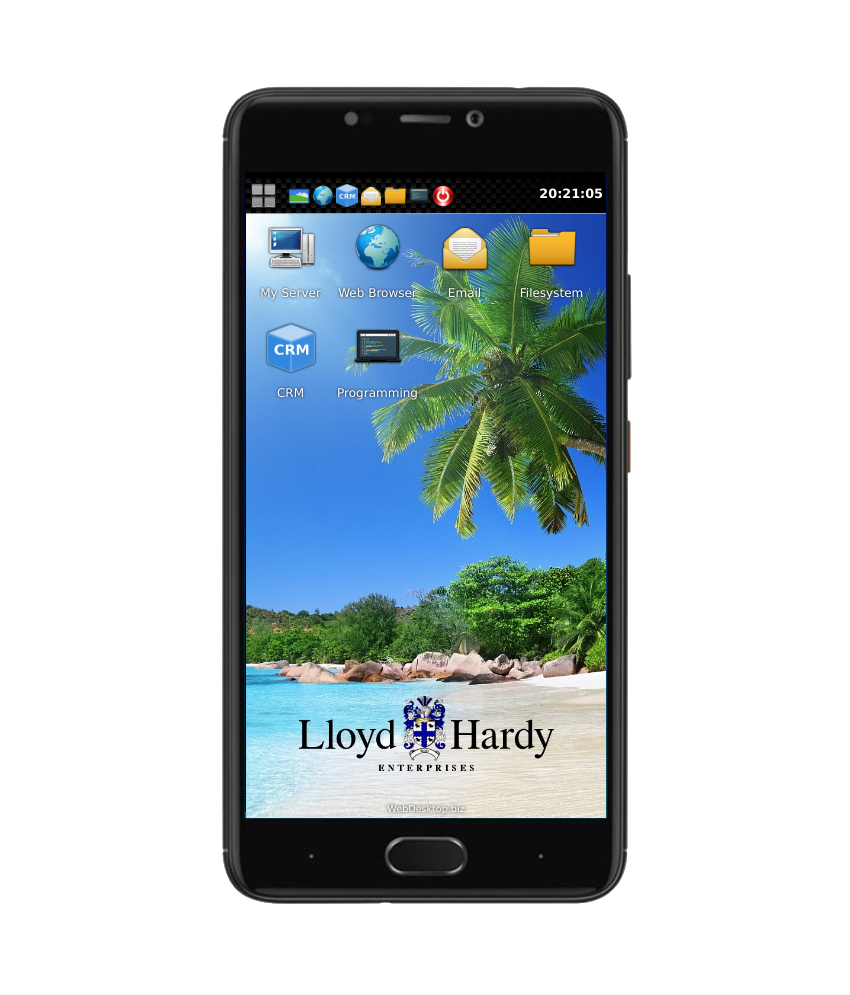 No Installation
You don't need to install an app, just visit your online erp² system in a web browser and log in.
Smartphone Friendly
Because there is no need for an App, erp² works on any smartphone, even ones that haven't been invented yet.
Easy To Use
With finger-sized icons and a familiar interface, erp² is super simple to use. Click on the desktop icons, quick links or menu to launch your custom software applications.
Your Brand
Whether employees, customers or suppliers log into your system, show them your brand with custom wallpapers for each user or group.
Secure
If a device is lost or stolen, there are no files stored on the device, so nothing is at risk. You can log out of the system and quickly change the user password remotely.
Unlimited Devices
There are no license restrictions on the amount of devices you can use to access your system. Enjoy freedom.
Keep Up To Date - Monitor employee performance in real time, check business KPIs and see the health of your business in a second. Access your files, update database records and walk into your office, open your tablet or laptop and continue with the same files.
erp2 Desktop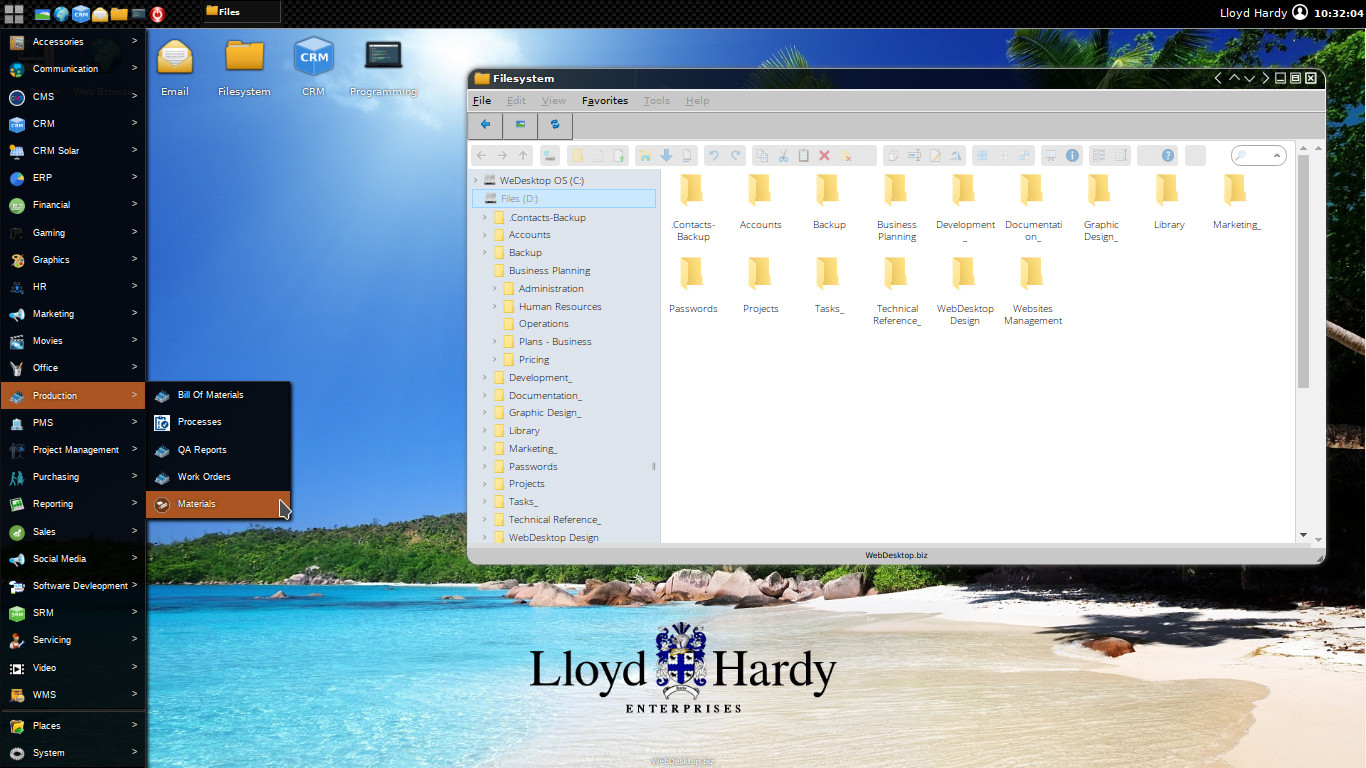 ×
Easier
No installation or download. Log in using a web browser and access all the features of your desktop erp² system on any computer. Find your custom software, hard-drive and files, calendar, contacts and custom apps safely backed-up in your online desktop. The same interface on any computer, wherever you are.
Safer
Drag and drop files to transfer securely in seconds. Download and edit files then drag to update version control to the latest. No data loss if your computer fails.
Faster
Search documents to find them quickly and share with others in seconds, secured with user and group policies. Connect documents to customers and suppliers for fast access in future. No more USB drives or large email attachments.
erp2 Benefits
The Complete Solution
erp² is an outstanding new business software platform that is guaranteed to provide a higher return on investment than other offerings. Imagine a traditional computer desktop that runs entirely online in a web browser. All your files, applications, databases, contacts and calendars are available online, in a web browser - with no installation required.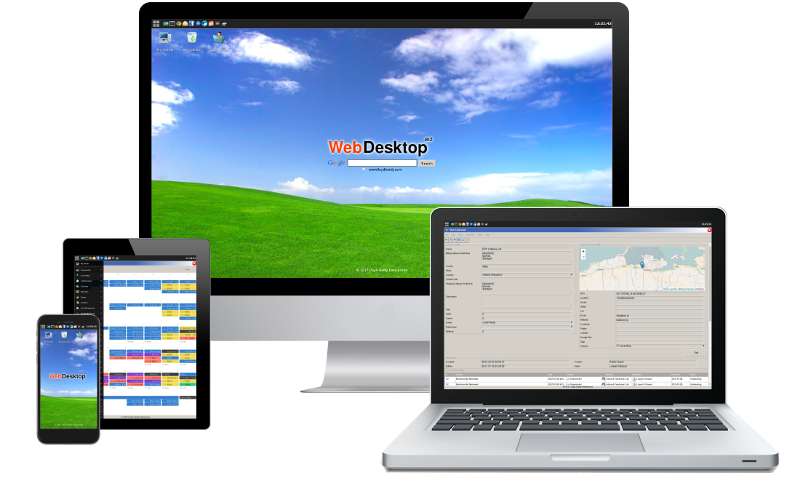 Just log-in and Start Work.
Following industry best practices, ISO open standards and 20 years of IT Consulting experience, the result is freedom, reliability, support, security, standardisation, experience and customisation all-in-one. A home for your data and your applications, all under your control.
Competitively Priced
Other vendors require a year one investment of £100,000+ but erp2 has a initial entry price of up to 20x less, depending in your requirements. A modular design allows you to invest in stages. Start with a simple customer database, add a full CRM for your marketing team and later add in Inventory and Human Resources modules that track data across your organisation.
Freedom
erp2 comes with unrivalled freedom. With an an open source AGPL software license, your new software is truly under your control.
Most software vendors license software under restrictive agreements but we provide you with complete freedom you add as many users to your system as you like and modify your software as you wish.
Customisation
Unparalleled application customisation really sets erp² apart from others vendors.
Every aspect of the system can be fully customised including the adding of themes, form element modification, database structure and queries.
erp² gives your business the edge when compared with restrictive, off-the-shelf solutions.
Turn Key Solution
erp2 comes with all the consulting, design, deployment and support you need, so you don't need to worry about managing your software project with multiple vendors.
There are no license renewals or complicated legal restrictions to abide by. Just an open source license with freedom.
Internet First
We built erp2 for the Internet first, so it's not tied to Windows or Apple platforms. The web-server runs on GNU/Linux for a robust, open source stack, that can be accessed on any desktop, laptop, tablet or smartphone. The system is designed first to run in a web browser, not requiring a specific platform of devices, just a stands-compliant web browser.
Open Standards
We follow open standards in our development which means our software is accessible by all users, regardless of ability.
Eternal Lifespan - We will never make your software obsolete or require you to upgrade to a new version. Your software can be updated as it is and can be modified to change to meet changes in your business environment and integrate other systems.
erp² is truly a lifelong investment that is unique in the current enterprise software market. When you make changes to your software they will stay changed.
No upgrade will drastically change your business software interface and require your staff to re-train to use your own software system. This is where you take control of your digital assets and build a strong future for your company.